true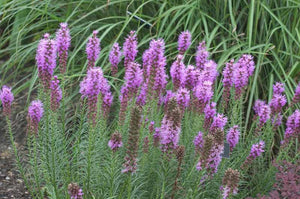 Liatris - Spicata Floristan Violet (Gayfeather)
Color: Fluffy wands of bright violet-purple flowers. Narrow green leaves turn a rich bronze in fall.

Height: 36-48" (16-20" wide)

Light: Full sun

Thrives in moderately fertile, moist, well-drained soils. Blooms early to late summer. Excellent choice for cottage gardens, native plant gardens, prairies, and meadows. Deadhead regularly. Deer resistant.