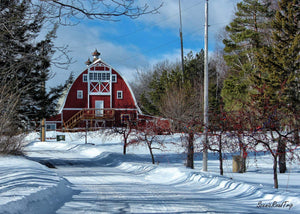 You learn some important lessons when you do something for over 100 years. You learn there is no substitute for experience. You understand substance outlasts trends. And you appreciate doing things the right way isn't just the best way. It's the only way.
That's the spirit we have lived up to since our farm was founded in 1908. Nestled on a hill overlooking the majestic Apostle Islands of Lake Superior, our farm still has many of the original heirloom apple trees planted more than 100 years ago. We invite you to learn more about what makes this area so special.
In 1908, a Swiss American family named Hauser settled in Bayfield, Wisconsin. Great-Grandpa John F. Hauser was a gifted horticulturist who grew strawberries and prize-winning potatoes. When the embargo on seeds from Europe began in 1912, Great-Grandpa Hauser saw an opportunity to grow and sell perennial plants.
In 1928, during the height of the Great Depression, Grandpa J. Dawson Hauser started an apple orchard as a way to make extra income for his growing family. He began by growing pears and apples, with the skill and knowledge of his forefathers back in Europe.
Over the next several decades, the farm continued to grow and expand its offerings as James F. Hauser, Sr. and wife, Marilyn led the way. Always with a reputation for doing things the right way. Not always the easy way, or the quick way. But the right way.
In 1988, Marilyn started making Hauser's Red Barn homemade jams, jelly, and apple butter to preserve that just-picked flavor from the delicious fruit grown right here on the farm. All of Hauser's jam, jelly, and apple butter is only from locally grown fruit and homemade with care in small batches in our state-approved kitchen.
Through all the years, the one thing that has remained constant at Hauser's Superior View Farm is the passing of the farm from father to son. James F. Hauser Jr. (Fritz) and his wife Ellen are now the proud owners of Hauser's with a lot of help from Jim Hauser Sr. And the 5th generation, Dane F. Hauser, is working alongside his Dad and Grandfather with new ideas and talents to continue to strengthen and expand offerings.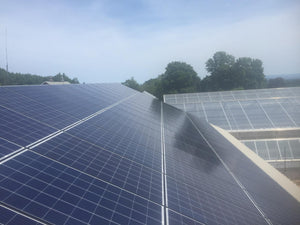 Built for the Future
We're proud of our family history of more than 100 years of growing. But we also have a vision toward the future. We're always planning ahead to make sure we continue to produce the most popular fruit and flower varieties, while also being good stewards of the environment.
In 2018, we made a further commitment to sustainability by transitioning to clean, renewable solar energy. It's all part of our effort to continuously plan and plant to ensure our family-owned business stays sustainable and successful for the next 100 years.
The Barn
The centerpiece of our farm is the big red barn. The historic barn was built in the 1920s with Western Fir and came as a mail order barn from Sears Roebuck Co. It was shipped by train, hauled up the hill from Bayfield by horse-drawn wagons, and assembled by local carpenters. The barn originally cost $896.00.
It rises 600 feet above, and about two and a half miles from, Lake Superior. In the hayloft, you'll find a panoramic view of Lake Superior and the Apostle Islands. So bring your camera and binoculars and discover how we got our name: Superior View.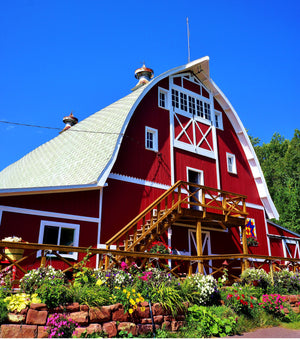 What's in Season
What's ready varies greatly from season to season, but here's a rough idea of what you can get and when. You should always contact us to confirm what's available.