From Blossom to Bottle. Made Right. Right Here.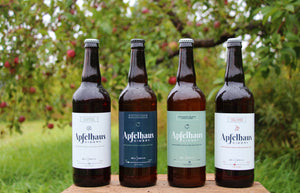 Orchards, uncompromising quality, the commitment to doing things the hard way, the right way—all these things run deep in our roots. 
It is with that spirit, we created Apfelhaus Ciders for you. Our founders are the fifth generation to tend Hauser's Superior View Farm, putting more than 100 years of heritage into every batch they produce. We craft our cider in small batches with produce grown, picked, pressed, and fermented on our farm powered by renewable solar energy. 
We don't do these things because it is trendy or easy. We do it because we know you always have a choice. A choice to consume quality, artisanal beverages. A choice to seek local ingredients sourced from sustainable farms using renewable energy. A choice to support those doing what they love.
You have the power to choose. So choose cider made right. Right here in Bayfield. 
Interested in selling or serving Apfelhaus Cider at your establishment? Click the Contact Link below:
Contact Us